North America (September 2009)
ISBN 10: 037312855X
ISBN 13: 978-0373128556
UK (June 2009)
ISBN 10: 0263872130
ISBN 13: 978-0263872132
The Innocent's Dark Seduction
September 2009 -
Modern Romance/Harlequin Presents
When a passionate possession leads to pregnancy...
Roark Navarre is ruthless and relentless. He wants beautiful Lia, and he will have her! When he discovers that she is a virgin, taking his prize becomes even sweeter. But the innocent's dark seduction has only just begun!
Many years ago, Lia was the innocent victim of Roark's merciless financial ruin of her father. But it's too late for regrets—soon she finds she's carrying his child. She doesn't want Roark, her bitter enemy, to know. Because surely he will do what he's always done—exact his price!
"Talented Jennie Lucas is the queen of gorgeous alpha male characters and the passionate women that tame them. In The Innocent's Dark Seduction, Roark is rich, arrogant and ruthless until he meets his match in beautiful compassionate Lia. Ms. Lucas takes her readers on an emotional roller coaster ride with Roark and Lia, from lust to passion to heartbreak and ultimately to ecstatic happiness."
~CataRomance.com
"It's trashy, but oh so fun... [full of] blatant giveaway signs throughout the story that ... something beautiful will happen in the end."
~Mrs Giggles, awarding The Innocent's Dark Seduction a rare high score of 82
Not familiar with Mrs. Giggles? 
She doesn't mince words, rarely likes anything, and even more rarely awards scores worth posting. So when she says that this book put "a smile on cranky old me's face", please know that that put a smile on MY face. I hope you enjoy.
~Jennie
Lia had just kissed another man wearing her dead husband's ring. Shame ricocheted through her soul like a bullet.
The riotous multitude of roses in red, pink and yellow filled the space, surrounded by ancient stone walls that were seven feet high. This had been Giovanni's favorite place. He'd grown the roses himself. He'd spent hours carefully taming and tending the garden.
But the garden had been neglected for months. The flowers were now overgrown and half-wild. The roses now reached up into the warm blue sky, some as tall as the stone walls which had been built from the ancient Roman foundations.
Tears threatened her as she briefly closed her eyes. "I'm sorry," she whispered aloud, as if Giovanni were still alive and could hear her. "I never should have let it happen."
She leaned forward to smell one of the enormous yellow roses. Yellow for memory. No wonder it had the strongest scent. She missed Giovanni's warmth, his kindness. She felt so guilty that she'd forgotten him, even for a moment. For the length of a kiss…
She closed her eyes, breathing in the fragrance, listening to the wind in the trees above, feeling the warmth of the Tuscan sun on her skin.
"Hello, Lia," a voice said quietly.
She whirled around.
The handsome stranger!
The man's dark eyes gleamed as he stared at her through the wrought iron gate. Pushing it open, he slowly entered the garden. His black shirt and black jeans stood out starkly against the profusion of colorful half-wild roses. There was a sexual tension in his body as he approached her like a stalking lion. She felt the intensity of his gaze from her fingers to her toes.
Somehow, he was even more handsome here than he'd been in New York. The man was as wild and savage as the forest around them. As unrestrained in his masculine beauty as the sharp-thorned roses.
And they were alone.
He stood between her and the garden door.
This time, there would be no taxi. No escape…
She instinctively folded her arms over her chest, trying to stop herself from trembling as she backed away. "How did you find me?"
"It wasn't difficult."
"I didn't invite you here!"
"No?" he said coolly. He reached for her, twining a black tendril of her hair around his finger as his dark eyes caressed her face. "Are you sure?"
She couldn't breathe. Birds sang high overhead, disappearing over medieval stone walls once built to keep invading marauders out. The same walls that now kept her in.
"Please leave me," she whispered, shaking with desire for him. For his warmth. For his touch. For the way he made her feel alive again, and young, and a woman. She licked her dry lips. "I want you to go."
"No," he said. "You don't."
And lifting her chin, he kissed her.
His lips were so hard and soft and sweet, she could hear the buzz of honeybees in the medieval garden, their secret world hidden behind the crumbling stone walls. The fragrance of overgrown half-wild roses drenched her senses. And she felt dizzy. She was lost, lost in him. And she didn't want it to ever end.
He pushed her back against a wall that was warm with sunlight and thick with twisting vines of wisteria. He kissed her again, more forcefully. Teasing her. Taking. Demanding. Seducing…
Giovanni's chaste peck on her forehead at their wedding hadn't prepared her for this. The previous night on the lonely plane ride across the Atlantic, she'd tried to convince herself that her passionate reaction to the dark stranger's kiss had been a momentary madness, a one-off that could never be repeated. But the pleasure was even greater than before, the sweet agony only increasing with the hard tension of her longing. All her grief and loneliness and pain fell away. There was only the hot demand of his mouth, the pleasurable caress of his hands.
What this dark stranger wanted, he took.
She tried to resist. She did. But it was like trying to push away Christmas, or happiness, or joy. Like trying to push away life itself.
Though she knew she shouldn't—she wanted him.
She returned his kisses hesitantly, then with a hunger that matched his own. She trembled at the brazen force of her own desire as he encouraged her every tremulous touch, murmuring appreciation at her slightest attempt at a caress.
She felt him pull off her little white shift dress, then her bra. She gasped as her naked breasts were bathed in the warm glow of sun.
With a groan, he lowered his mouth to suckle her nipple, and she cried out. Cupping her other breast in his hand, he licked and stroked her flesh. Caressing her hips, he pulled down her panties, dropping them to the grass.
And she couldn't stop shaking.
"Lia," he said hoarsely. "God, Lia. What you do to me…"
He picked her up in his strong arms. She stared up at his handsome face, at the intensity in his deep dark eyes.
And she suddenly knew this fire would consume them both.
Roses Make the Castle
In The Innocent's Dark Seduction, virgin widow Lia is seduced by a handsome dark stranger in an overgrown rose garden in a medieval Italian castle. Those two images—the roses and the medieval castle in Tuscany—are the heart of this story.
I love roses. As a girl, I always dreamed of someday having a cottage of my own with roses growing on a trellis. Now I smile every time I see them growing in front of my window. Here's a picture my husband took of me in front of our house last year: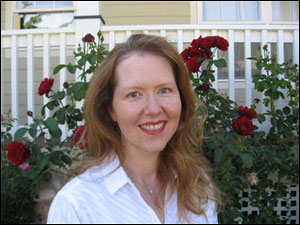 In May 2008, as a newly published writer, I went to Italy to attend Sharon Kendrick's class at the Watermill of Posara. I was thrilled to visit Italy and meet some aspiring writers of Harlequin Presents—and also one of my idols, Sharon Kendrick!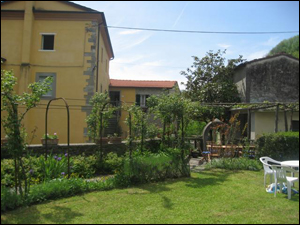 The Watermill, the beautiful 18th-century estate in Posara, Tuscany
where we spent our week at the creative writing workshop!
The setting of the old 18th century Watermill, the roses, and the sunshine, directly inspired me as I started writing The Innocent's Dark Seduction. So I dedicated the book to the girls in the class:
To the Watermill girls--
Rachael (Rachael, not Rachel, there was a typo in the North American edition), Carol, Becks, Susan, Francesca, Rachel, Kerstin, Ruth (I somehow forgot RUTH FROM WALES, I'm so sorry Ruth! So I'm adding you here), and most of all, Sharon Kendrick—in memory of that fabulous week we hatched story plots, drank wine and ate chocolate during the creative writing workshop in Posara, Italy. You guys rock.
I'll never forget the fun we had. BTW, new Presents writer Sabrina Philips actually sold the first book she wrote after Sharon's class, so if you have a hankering to learn how to write (and see some Italian roses) you should check it out.
Skydiving—is it necessary?
Roark is all about the danger. He's so alpha that when he lived in Alaska, he enjoyed skydiving!
You're not going to believe this, but I've jumped out of a perfectly nice plane myself. It wasn't my idea, believe me. I did it to keep my husband company (yup, another man who's all about the danger!).
I don't have a picture of me jumping out of the plane, but just imagine me looking green and sick on the plane ride up, looking green and sick as I step out of the plane into nothing but air, then green and sick as I plummet to the ground tied to my instructor.
Some people love skydiving, but I'll leave it to fearless (crazy?) alpha types. Just leave me chilling in the kitchen baking cookies—or possibly at a day spa getting a massage.
Paolo's house
Sharp-eyed readers will recognize a familiar name in the person who lends Roark his house in Hawaii…the incredible Kauai estate belongs to Paolo Caretti, the hero of Caretti's Forced Bride.
At Last
After Roark ruthlessly wins a dance with Lia at a charity auction, they dance to the Etta James standard "At Last." It's been a popular song lately, but I've loved it since I heard it in the Rain Man soundtrack in high school—long before Beyoncé sang it for the Obamas' romantic moment during their inauguration last February.
Roark Navarre's name
I fell absolutely in love with this hero. Insanely, passionately adored him. In fact, I ended up creating his name as an amalgam of two of my all-time favorite romantic heroes as a girl—Kathleen Woodiwiss's character Roark (from her book Shanna) and the brutal Navarre from the movie Ladyhawke. Droooool-worthy.
Roark and Lia's return
I loved this book so passionately, I couldn't let the characters—or the roses and medieval castle—go.
If you're interested in finding out what happened next to Roark, Lia and their family, keep your eyes out for Bought: The Greek's Baby in early 2010, in which Roark and Lia play a very critical role in someone else's love story.