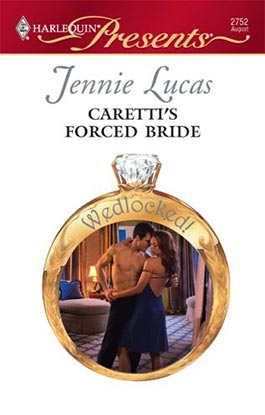 North America (August 2008)
ISBN 10: 0373127529
ISBN 13: 978-0373127528
UK (April 2008)
ISBN 10: 0263864197
ISBN 13: 978-0263864199
Caretti's Forced Bride
August 2008 -
Modern Romance/Harlequin Presents
He'll take his revenge. He'll be ruthless. He'll make her ready for the taking!
Dark, devilish, rich and ruthless, Paolo Caretti isn't ashamed of his roots. But he's ashamed that he once loved a woman who thought she was better than him. Now Isabelle needs him, and Paolo has a thirst for revenge…
She'll be his bride. She'll do his bidding. She'll be happy in his bed!
Princess Isabelle de Luceran – she knows she hurt Paolo and it broke her heart. She also knows his help has a price. And when he discovers the true depth of her deceit she'll be destroyed by his vengeance…
They'll make vows. They'll make love. They'll find love springs from hate!
"There is so much anguish, hurt and at times it broke my heart. Their passion will take your breath away and in the end when they resolve their past, secrets and the issues facing them are resolved, you'll stand up and cheer! Caretti's Forced Bride is one book you won't want to miss and I'm hopeful that Jennie will continue on with a series as all of the characters were wonderful, each with a story of their own, I'm sure!"
~The Pink Heart Society awarding Caretti's Forced Bride 5 hearts! 
"Packed with twists and turns, Caretti's Forced Bride will keep you reading as the characters' secrets are revealed one by one. Ms. Lucas introduces a brooding, dangerous, alpha hero and the beautiful intelligent heroine that will tame him... So, slip into the exotic setting created by Ms. Lucas in Caretti's Forced Bride and lose yourself in this captivating story."
~CataRomance awarding Caretti's Forced Bride 4 stars!
"What a wonderful story! Do you know who it reminded me of? And I say this as a major compliment because I think she's marvellous. That's Jane Porter. It had a similar level of intense emotion and high stakes. Fantastic!!!! I was really moved by it - that scene where she kneels was amazing... Thought it was great! He was SUCH a great hero. And I so felt for him, rising above his background the way he did. And she was a GREAT princess."
~Anna Campbell, Avon historical romance author
"A child is in danger!" A very unladylike curse went through Isabelle's mind. "If you were any sort of gentleman, you wouldn't ask me to be your mistress as the price for your help!"
"But he's not my child," Paolo Caretti said coolly. "He's King of San Piedro with a hundred bodyguards at his beck and call. You could have half of Europe searching for him already, but you chose to come to me instead." He came closer. "And as you have already pointed out to me so succinctly, I'm not a gentleman."
His gaze devoured her whole. He leaned forward, his lips inches from hers. She could feel the muscles of his thighs pressing against her legs. Her knees felt weak. She hadn't eaten or slept for two days. She'd barely made it to New York without the paparazzi catching her, and ditching her bodyguards at the hotel hadn't been easy. All she'd been able to think about was Alexander. Where was he? Was he being well treated? Was he scared and alone?
Paolo was right. She didn't need a gentleman. She didn't need someone who was kind and civilized and knew how to properly tie a cravat.
She needed a hard-edged warrior who was strong and ruthless. She needed a man who was invincible.
She needed Paolo.
But at what cost? How much was she willing to risk?
"Why do you want me in your bed?" she whispered. "To soothe your pride? To punish me? You could have any woman you wanted!"
"I know." He ran his hand down the side of her neck, to the bare skin of her collarbone above her wool coat. "I want you."
Hearing him speak those words made her weak, and his fingertips caused heat to sweep across her body like a brush fire. How many nights had she dreamed of him—reliving every moment he'd ever taken her in his arms? How many days had she fantasized about the way he'd once touched her?
For ten years, she'd longed for him. Even knowing he was forbidden to her forever. Even knowing that if she gave herself to him again, it would risk far more than her coming engagement. Far more than her heart.
"Why?" she managed. "Why me?"
He shrugged. "Perhaps I want to possess something other men only dream of."
"Possess?" At that, she raised her chin. "Even if I become your mistress, you will never truly possess me, Paolo. Never."
He looked down at her, his eyes dark. "Ah. Now there's the princess I remember. I knew you couldn't stay a meek little mouse for long." He stroked her cheek. "But we both know you're lying. You will give yourself to me. And not just for your nephew's sake, but because you want to. Because you cannot resist."
She couldn't deny it. Not when just his slightest touch sent her senses reeling, made her body combust beneath the chill of her wet clothes.
"Would you keep our night a secret?" she asked in a low voice. "Could you?"
His lip curled. "You mean would I call reporters to brag about my good fortune?"
"That's not what—" She took a deep breath. "No one must know that Alexander was ever kidnapped. And there's my coming engagement…"
"I understand." Clenching his jaw, he held out his hand. "Let me see the letter."
She gave him the scribbled note out of her coat pocket.
"You haven't left yourself much time," he said, handing the letter back to her. "What was your plan if I refused?"
"I don't know."
"No other plans? No one else to ask for help?" he said softly. "Perhaps I should demand more of you. A month of nights. A year of them."
Horrified, she stared up at him.
He gave her a smile. "Fortunately for you, I tire of women easily. One night with you should be more than enough." He stroked her cheek, the edge of her jawline, the sensitive crook of her neck. "And so you agree to the terms?"
She pressed her hands against her belly. She wanted to say yes. And if she were truly honest with herself, it wasn't just to save Alexander.
But it was too dangerous. Giving herself to Paolo, even for one night, risked everything she held dear—her future engagement to Magnus, her heart, and worst of all, her secret. Dear God, her secret…
"Please, Paolo." She licked her dry lips. "Isn't there any other way you'd consider—"
He cut her off with a brutal kiss. His lips crushed hers as his tongue penetrated her mouth, mastering her, enslaving her.
"Say yes," he growled. He kissed her again. "Say yes, damn you."
"Yes," she whispered, sagging in his arms.
He abruptly let her go. She nearly lost her balance as he opened his cell phone and dialed. Knees shaking, she sank into a chair, feeling as if she'd sold her very soul. She watched as he efficiently and ruthlessly barked orders into the phone, all business. As if he'd already forgotten she was there.
But she knew he hadn't forgotten her. He could feel her, as she could feel him.
She touched her lips. She'd spent ten years trying to forget Paolo Caretti. She'd given up what she loved most in order to stay out of his ruthless, vicious world. But now she was being drawn back in. She could only pray she wouldn't be irrevocably caught in his web.
His mistress for one night. That was the price. She would be used at his will and at his pleasure. And worse still, he would make sure she enjoyed it. Just thinking of what was ahead, she clutched the arms of her chair as the world seemed to hover and spin around her.
All she could do now was pray that Paolo never discovered the secret she'd been hiding. The greatest secret of her life.
ORIGINAL TITLE: Bought for the Billionaire's Pleasure
Like most girls, I dreamed of being a princess. I was seven years old when my mother woke me up to see Princess Diana's fairy-tale wedding televised from half the world away. Now I see my own young daughter prancing around the house in fancy dresses and tiaras.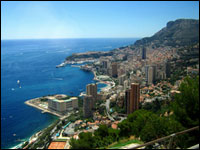 But being a princess isn't always what it's cracked up to be, is it? A life can feel so different on the inside than it might look on the outside. You only have to look at Grace Kelly or Princess Diana to realize that.
In Caretti's Forced Bride, Isabelle is beloved and worshipped as the most beautiful princess in the whole world. She is fashionable, beautiful, adored. Surrounded by paparazzi. But in spite of that, she's very lonely. She's lost nearly everyone she loves. And she carries the heavy weight of a secret.
Is it possible to be a princess trapped in a castle—but still be happy?
Maybe if you have the right prince…
Cars and Racing
Princess Isabelle drives a spunky MINI Cooper convertible in a custom pink color. Her car was inspired by my husband's red MINI, which he uses to race in local autocross events. Here he is to the right, driving the car as a friend rides along.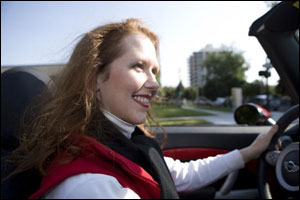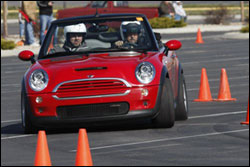 My husband even convinced me to try racing once! But turning back and forth sharply around the cones and accelerating faster and faster just made me green! So I decided to leave the racing to him and use the convertible the way I liked best—driving around town at a sensible speed. But I'm so proud of his racing skills. And some of that pride comes out in Paolo's passion for motorcycle racing.
Cooking Lessons
Princess Isabelle has never learned how to cook or clean, and actually dreams of being able to do these things for herself and create her own home for her family. I confess I'm a terrible cook. I like baking cookies, but when it comes to dinner, I'm always strangely shocked when it's 5 p.m. and I realize I need to think of something to make—as if it never occurred to me that we'd want dinner again tonight!
So it's ironic that I find myself drawn to watching cooking shows on TV, especially Paula Deen. There's something so wonderfully comforting about the way she uses butter and the way she cooks for her family. That kind of cooking is so old-fashioned… so homey.
So when Paolo makes it possible for Isabelle to pursue her interest in cooking, he's showing he understands her desire for a home. And her longing to really eat rather than just starving herself on a continual diet.
Here's an easy version of the pasta Isabelle learns to make with Paolo in Rome. I've heard this recipe described as both Fettuccine alla Romana (although this is also the name of a tomato-and-sausage pasta) and the more commonly used Fettuccine Alfredo. I make this sometimes for my family—and it's idiot-proof enough so that even I can't screw it up! But it's hugely fattening, so I'd advise enjoying it in small portions with a big salad and a nice glass of red wine. Or heck, it might be a really fun way to gain a pound, too.
PRINCESS ISABELLE'S FETTUCCINE
8 oz. medium egg noodles
1 c. Parmesan cheese
1/2 c. heavy cream
pepper to taste
1/2 cup butter
Cook noodles according to package directions. When the noodles are almost done, cut butter into quarters. Combine the butter, parmesan and cream in glass serving bowl and cook at MEDIUM 3-4 min. or until butter melts. Stir twice. Stir drained noodles into sauce and toss well. Season with pepper.
SOUNDTRACK I LISTENED TO WHILE I WROTE CARETTI'S FORCED BRIDE:
Glamorous by Fergie
Your Ex-Lover Is Dead by Stars
Diego's Goodbye by James Horner (from The Mask of Zorro soundtrack)
Cobrastyle by Teddy Bears
Say It Right by Nelly Furtado
Another Day by This Mortal Coil
Goodnight New York by Snow & Voices
and…
All Good Things Come to an End (Spanish version) by Nelly Furtado. I listened to this particular song for 12 hours straight the final day I finished the revisions!
WARNING: this feature contains spoilers, so if you haven't read Caretti's Forced Bride yet, stop now!
*
*
*
*
*
*
Valentina Novak had a hard time watching her boss be happily married to Isabelle, so she soon found a different job in Paris. Working for an investment company, she worked her way up the corporate ladder, invested her money on her new boss's advice, and now has over a million dollars in her own assets. She just bought her first house, a one-bedroom apartment in the Quartier Latin. She has a wide choice of lovers, and after spending her nights in a jazz clubs, she often brings her favorite musician home at sunrise. He makes love to her in her garret bedroom, in view of the silhouette of Notre Dame across the Seine. So don't feel too bad for her!
Alexander de Luceran is growing up to be a steady, strong young man and an excellent king of San Piedro. (Look for his story in about ten years!)
Isabelle and Paolo now have three more children in addition to Alexander, starting with sweet, round-cheeked baby Marguerite. They love being parents. Isabelle weighs ten pounds more than she did when she got married. She not only looks better, she loves indulging her every passion with Paolo… which they do every day.
Magnus von Trondhem has become a real brother to Paolo. He's "Uncle Magnus" to their children and always brings them huge sackfuls of presents at Christmas. But he's never admitted to anyone how lonely he's been since Isabelle broke their engagement. Then this last holiday season—he met Milly.
Milly Lavoisier, Alexander's former nanny and now head nanny to the growing brood of Caretti children, was swept off her feet at the age of thirty-four by Magnus, the tenth richest man in the world. She's taking him to meet her parents in Montréal this summer. She doesn't know that Magnus has bought her an eight-carat diamond ring and is planning to ask her father for her hand in marriage!