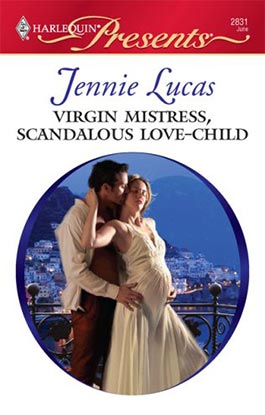 North America (June 2009)
ISBN 10: 0373128312
ISBN 13: 978-0373128310
UK (March 2009)
ISBN 10: 0263870081
ISBN 13: 978-0263870084
Virgin Mistress, Scandalous Love-Child
June 2009 -
Modern Romance/Harlequin Presents
She's pregnant—and he'll take what is rightfully his!
In the sultry heat of Rio and its Carnaval, Ellie succumbs to her dangerously charismatic boss Diogo Serrador. But having taken her virginity, the Brazilian billionaire wants nothing more to do with her—until he discovers she's pregnant!
Diogo will accept nothing less than taking Ellie as his bride. Their marriage is passionate by night but forced and hollow by day. Ellie realizes she's in an impossible situation: Diogo's dark past has frozen his heart, but she's fallen in love with her husband...
"Award winning Jennie Lucas has created a passionate alpha hero in Diogo and a sensitive heroine in Ellie. Set in romantic Brazil, their love story tumbles from the pages, enticing readers to melt with the romance of it as Diogo and Ellie finally find their happily-ever-after in Virgin Mistress, Scandalous Love-Child."
~CataRomance awarding Virgin Mistress, Scandalous Love-Child 4 stars!
"Jennie Lucas amazes me and this time her Virgin Mistress, Scandalous Love-Child is no exception. It's steamy, sensual but what makes this particular story amazing is it's also full of mystery, some action and a ton of secrets."
~Marilyn's Romance Review on Virgin Mistress, Scandalous Love-Child
Ellie & Diogo's love story was reviewed by Eloisa James in her June 2014 Barnes & Noble column. Eloisa's lead-in:
"This may be part of the reason why exoticism has switched from hero to heroine: it is difficult to come up with reasons why an American girl raised on Girlsand The Jerry Springer Show manages to keep her virginity well into her twenties. In her Virgin Mistress, Scandalous Love-Child, Jennie Lucas confronts the challenge straight on. It never occurs to Lucas's hero, Diogo Serrador, "a dark, ruthless steel tycoon," that the twenty-four-year-old in his bed, Ellie Jensen, might be a virgin..."
All through breakfast, Ellie couldn't stop giving Diogo little furtive glances over the table.
Sitting on the sunny warmth of the penthouse balcony, with a wide vista of the Atlantic Ocean and the sharp cragged peak of Sugar Loaf Mountain rising to the east, she watched Diogo drink black coffee. Watched him smile and chat easily in Portuguese with the housekeeper. Watched him eat his buttery croissant slathered in jam with obvious pleasure.
Sitting with him in the Brazilian sunshine, breathing sea air that was fresh from last night's rain, Ellie realized that she was enjoying herself as well. She wiggled her toes in her comfortable new sandals, then sat forward in her chair and accepted the housekeeper's offer of a second ham-and-cheese omelet.
For some reason, for the first time in forever, Ellie felt…hungry.
Happy.
She sipped sparkling water from a crystal stem. Finishing her ham-and-cheese omelet, she gobbled down two chocolate croissants, all the while gulping down papaya, mangoes and açai berries, washing it down with sweet-tart pitanga juice. Every bite was ecstasy. Every taste better than the last. She felt good down to her bones.
And every time she looked up from her plate…
She saw him.
Their eyes met, and a shiver went through her. He hadn't left her when she refused to make love to him. He hadn't run out to look for some other woman. He hadn't even been angry. He'd just brought her outside to share a meal with him in the sunshine.
Almost as if he cared.
She bit her lip, trying not to even think such things!
The housekeeper refilled Diogo's coffee, and he nodded her dismissal. When he was alone with Ellie on the balcony, he leaned across the table.
"Pregnancy suits you."
She looked up to discover Diogo looking at her with frank desire. An electric current traveled between them.
"You're even more beautiful," he said, "than you were that day at Carnaval."
Feeling awkward, she swallowed the bite of fruit and leaned back in her chair. Forgetting her gracefully placed linen napkin in her lap in her confusion, she wiped her mouth with her sleeve.
"Thank you," she muttered.
"How are you feeling?"
"Great." And to her amazement, it was true. The nausea she'd felt for months was gone. In fact, she hadn't really felt sick since she'd arrived back in Rio and taken a deep breath of the fragrant air, spiced with exotic flowers and the salt of the sea.
"Good." Diogo smiled at her. "I have a proposition for you."
A little thrill zinged through her. "A proposition?"
A fantasy overwhelmed her brain. I want you, Ellie, you and only you. I want to raise our child together. I want to marry you and make love to you every day for the rest of our lives…
Stop it! she yelled at herself. Hadn't she learned not to dream impossible dreams—and learned it the hard way, as Diogo's secretary? Besides, she didn't want to be his wife. Why would she want to marry a playboy she couldn't even trust to be faithful?
"Ellie." He took a sip of his coffee, then set down the cup. "You are so young."
She snorted. "Twenty-four!"
His dark gaze seared her. "That is young to me. You are barely starting your life. You had no intention of getting pregnant, but I caused you to conceive my child. You shouldn't suffer because of my mistake."
She gave him an uncertain smile. "I haven't exactly been suffering…"
He gave her a brief, humorless smile. "I've caused you to be sick for the months. Driven you out of your job. Kidnapped you from your wedding…Shall I go on?"
"What is your point?"
"I caused this," he said quietly. "I can fix it."
She clasped her hands beneath the table to hide their trembling. "How can you fix something like this?"
"I want you to promise to stay with me."
Her heart leapt up into her throat. "To stay with you?"
"Until the baby is born. Then you can go back to New York, or anywhere you desire. You can return to your career, if you like. You can date whomever you want. Being pregnant has thrown you—it's what nearly made you marry a man you did not love. It clouded your judgment. Marrying him would have ruined your life—and my son's."
"What are you driving at?" she whispered.
"After our child is born, I will set you free." He took another sip of coffee. "My son will stay with me."
A dagger of ice passed through her body. "You want to separate me from my baby?"
"It is for the best, Ellie. You never wanted to be a mother—"
"That's not true!"
"And I'm not convinced that you can take proper care of him."
Her jaw dropped. "You can't be serious."
"I am."
She sucked in her breath.
"You think you would be a better father?" she demanded furiously. "You'd never even be home! You fling yourself into a new woman's bed every night!"
"Ellie, listen—"
"No, you listen to me!" She abruptly rose from the table. "You're the one who doesn't have the ability to be a good parent. The baby and I are leaving right now—"
"Stop," he ordered, and she stopped. She heard him come behind her. He placed his hands on her shoulders. The weight of them pressed down on her like the burden of her heart's hopeless yearning.
He turned her around in his arms.
"You will stay here until the child is born," he said. "That is non-negotiable. I can't take the chance you might return to Wright—or any other man like him. You will remain here where I can keep an eye on you."
She fought back tears. The Brazilian sunlight must have glazed her brain to make her think that she could ever trust Diogo! "So you can keep me prisoner, you mean!"
"So I can keep you safe," he said coldly. "You don't know Wright as well as you think you do."
"I know he's my friend. I know he's got more honor and decency in his little finger than you've got in your whole body!"
He gave her a grim smile. "And it's that blind lack of judgment that shows you're not fit to raise my son. I simply cannot trust you to—"
"You can't trust me?" she gasped. "That's the most ridiculous thing I've ever heard! You are nothing but a rich, spoiled womanizer who's never had to struggle for anything in your life. While all I want, all I've ever wanted, is to take care of the people I love!"
He ground his jaw. "I do not want a custody battle, Ellie. Give the baby up to my care. He will be happy and secure." He paused. "And I will compensate you for your trouble. I will make you rich beyond your wildest dreams."
"What?" she gasped, confused. What did money have to do with custody of their baby?
"Ten million dollars." He looked down at her. "I will give you ten million dollars to go."
The day after my husband and I were married, we moved to Ohio so he could take a "real" job. We saved our money and a few years later, proudly bought our first "grown-up" car—his dream car, a BMW M Roadster.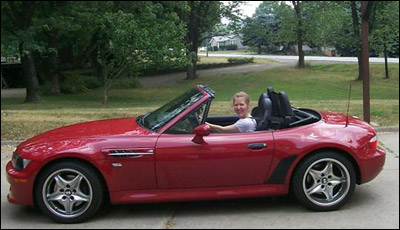 Jennie in a BMW M RoadsterJennie in a BMW M Roadster
I can see you rolling your eyes. Okay, so maybe it's not the most grown-up car in terms of being responsible, but we loved it. It was a brand-new model that had just appeared in a James Bond movie and got lots of attention, which sometimes made me feel uncomfortable, but my superdriver husband was in hog heaven over the way it handled. We were in our twenties and spent our weekends driving it all over eastern Ohio and the rolling hills of central Pennsylvania—the inspiration for Ellie's hometown in Virgin Mistress, Scandalous Love-Child. (You might also notice a certain character joyriding across Pennsylvania in the story!)
Anyway, like many other young married couples, we eventually sold the impractical two-seater when we had our first baby. My husband progressed to other obsessions, like autocross racing.
Rio
Copacabana PalaceWhile writing Virgin Mistress, Scandalous Love-Child, I obsessed over Rio de Janeiro almost as much as my husband did over that first sportscar. I poured over books, lingered over pictures, dreamed constantly. I planned out my Brazilian dream trip to the last detail. This is the pleace I wanted to stay, the hotel that inspired Diogo's home in Rio—the world-famous Copacabana Palace.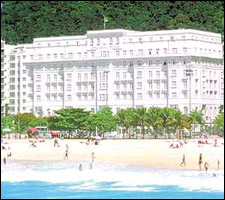 My husband isn't generally much of a traveler, but shortly before Christmas in 2006, he came home holding an envelope from the travel agent. While helping out his uncle at his business, he'd mentioned my Rio obsession. In thanks for my husband's help, his uncle had just given us a trip to Rio!
I nearly passed out from joy. But then—I had to turn down the trip. I just couldn't do it. Our babies were young and I couldn't imagine being away from them for more than 5 days—way too short of time for us to jet off on a romantic trip to Rio. Just traveling from Idaho to Rio would have taken almost twenty grueling hours each way.
So instead, we traded in the tickets for an exotic place much closer to home—Cancun, Mexico. With the difference in price, we were able to fly first class and stay at the Ritz. (!!!) I don't know if it was the luxury, the margaritas or the company, but it was the most romantic trip of my life. The honeymoon we'd never gotten around to taking (and couldn't have afforded anyway) when we'd gotten married ten years before.
Someday I'll make it to Rio, maybe when we can bring the whole family. In the meantime, look for a future story set in Cancun—that place is just too beautiful and sexy for words!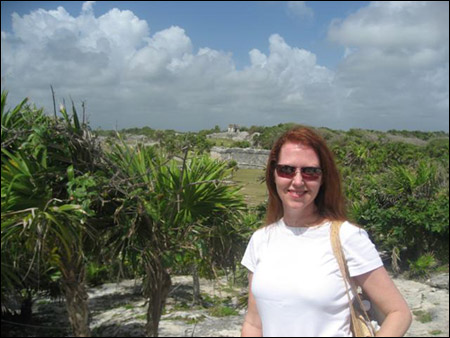 Jennie in a BMW M RoadsterJennie in Cancun, Mexico