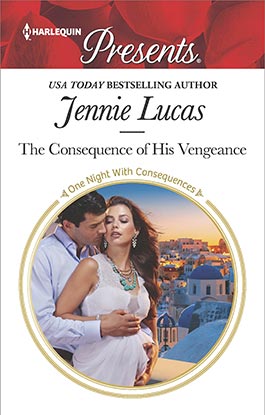 North America (February 2017)
ISBN 10: 0373060394
ISBN 13: 978-0373060399
UK (February 2017)
ISBN 10: 0263923975
ISBN 13: 978-0263923971
The Consequence of His Vengeance
February 2017 -
Modern Romance/Harlequin Presents
Ten years ago, with her father arrested for fraud, Letty Spencer became the most hated ex-socialite in Manhattan, forced to push away the only man she's ever loved. Now Darius Kyrillos is no longer just the poor chauffeur's son and he's come back to claim her!
Instead of slaking his thirst for vengeance, Darius was consumed by insatiable need the moment his lips touched Letty's again. But he couldn't have foreseen the consequence of his actions—soon he'll be a father. Letty rejected him once; Darius won't allow her to do so again!
Letty Spencer hunched her shoulders against the frosty February night as she pushed out of the Brooklyn diner. Her body was exhausted after her double shift, but not half as weary as her heart.
It had not been a good day.
Shivering in her threadbare coat, Letty lowered her head against the biting wind on the dark street. Snow flurries brushed against her exposed skin.
"Letitia."
The voice was low and husky behind her. Letty's back snapped straight.
No one called her Letitia anymore, not even her father. Letitia Spencer had been the pampered heiress of Fairholme. Letty was just another New York waitress struggling to make ends meet for her family.
And that voice sounded like…
He sounded like…
Gripping her purse strap tight, she slowly turned around.
And lost her breath.
Darius Kyrillos stood against a glossy black sports car parked on the street. Dark-haired and dark-eyed, he was devastatingly handsome and powerful in his well-cut suit and black wool coat, standing beneath the softly falling snowflakes illuminated by the streetlight above.
For a moment, Letty struggled to make sense of what her eyes were telling her. Darius? Here? In real life?
"Did you see this?" Her father had demanded that morning, spreading the newspaper across their tiny kitchen counter. "Darius Kyrillos just sold his company for twenty billion dollars!" Her father's had been eyes hazy with painkillers, his recently broken arm awkward in a sling. "You should call him, Letty. Make him love you again."
Shocked, she'd staggered back. Her father had broken the unspoken rule. After ten years, he'd said Darius's name out loud.
She'd fled, mumbling she'd be late for work. But it had affected her all day, making her clumsily drop trays and forget orders. She'd managed to dump a plate of scrambled eggs on Mrs. O'Shaughnessy. It was a miracle she hadn't been fired.
No, Letty thought, unable to breathe. This was the miracle. Right now.
Darius.
She took a step towards him on the sidewalk, then another, her eyes wide.
"Darius?" she whispered. "Is it really you?"
He came forward like a dark angel. She could his breath beneath the streetlight like white smoke in the icy night. He stopped, towering over her. The light frosted his dark hair, leaving his face in shadow. She half-expected him to disappear if she tried to touch him. So she didn't.
Then he touched her.
Reaching out, he stroked a dark tendril that had escaped her ponytail, twisted it around his finger. "Are you so surprised?"
At the sound of that low, husky voice, lightly accented from his early childhood in Greece, a deep shiver sent a rush of prickles over her skin. And she knew he wasn't a dream.
Her heart pounded. Darius. The man she'd tried not to crave for the last decade. The man she'd dreamed about against her will, with such anguished desire, night after night. Here. Now. After all this time. She choked out a sob. "What are you doing here?"
His dark eyes ran over her hungrily. "I couldn't resist."
As he moved his head, the light touched his face. Her lips parted. He hadn't changed at all, she thought in wonder. The same years that had nearly destroyed her hadn't touched him. He was just the same man she remembered, the one she'd once loved with all her innocent heart. The man who'd been the center of all her dreams ten years ago, back when she'd been a headstrong eighteen-year-old, caught up in a forbidden love affair. Before she'd sacrificed her own happiness to save his.
His hand moved down her hair, to her shoulder, where it lingered. Feeling his warmth through her thin coat, she wanted to cry, to ask him what had taken so long. She'd almost given up hope.
Then his expression changed. She saw him notice her old coat, with its broken zipper, and beneath that her diner uniform, a white dress that had been bleached so many times it was starting to fray. Usually, she also wore unfashionable nylons to keep her legs warm and her feet from sweating while she was on her feet all day in white orthopedic shoes. But today, her last pair had been unwearable with too many rips and ladders so her legs were bare. Following his gaze, she blushed. "I'm not really dressed to…"
"Your clothes don't matter." There was a strange undercurrent in his voice.
He turned away from her, and started to walk away. She didn't move. Her heart was in her throat as his hand started to slip away.
He stopped, looked back at her. "Are you coming?"
"Where?"
He took his hand in his own, palm to palm, and she no longer felt the snowflakes or cold. Waves of electricity scattered helter-skelter across Letty's body, across her skin, from her scalp to her toes, making her breasts feel heavy, her nipples taut.
"To my penthouse. In Midtown."