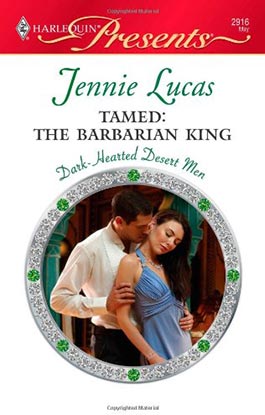 North America (May 2010)
ISBN 10: 0373129165
ISBN 13: 978-0373129164
UK (April 2010)
ISBN 10: 0263877884
ISBN 13: 978-0263877885
Tamed: The Barbarian King
May 2010 -
Modern Romance/Harlequin Presents
Should he take a mistress... or the throne?
He's as wild as the desert, a barbarian prince, a revered leader. Long ago he loved a girl, but the power of their feelings almost destroyed them both. Now that woman, the only one he could ever love, is forbidden to him!
Betrothed to another, unable to bear him sons, she is unfit to be his queen.... But she can stop the storm that has raged in his heart since he last made her his.
His choice - take her as his mistress, or become the king he was born to be....
"Thirteen years ago, King Kareef of Qusay and Jasmine Kouri were teenage lovers. Now, Jasmine is to marry another man unless Kareef can persuade her otherwise. Unable to bear children stemming from a horse-riding accident that was Kareef's fault, Jasmine is resistant because she knows that a monarch's first duty is to produce an heir. Also, she's desperate for her family's approval, especially now that her younger sister is pregnant. Not marrying her fiancé will bring more shame to her father and mother. With this touching story of how past tragedies can mar the present, Lucas has written another winner with a surprise ending that is sure to satisfy."
~Romantic Times BOOKReviews awarding Tamed: The Barbarian King 4 1/2 stars!
Kareef turned his face up to the night sky. He heard an owl's distant echoing cry. He felt the warm desert wind against his face, blowing open his white shirt.
He was on the hunt. He no longer felt like a king, constrained into the rigid boundaries of duty and appearance. Suddenly, he felt wild. Uncontrolled.
Where was she? He looked to the right and left, searching across the dark shadows of trees and shimmering pools of water like a Qusani hawk seeking his prey. Had Jasmine disappeared into the night? Did she truly exist only in dreams?
The moonlight cast a silvery glow on the swaying palm trees. He could hear the wind through the leaves, hear the burbling water of the fountain. In the distance, he could hear the Mediterranean pounding beneath the cliffs.
Booms like cannons ricocheted across the sky, fireworks provided by the city of Shafar to celebrate his coming coronation. Kareef knew he should be thanking the city council right now, instead of pursuing this ghost from his past—this woman who'd given herself freely to another man.
But not yet. She was still his. She was still his.
He saw a sudden flash of white. He saw her lithe body cross the garden, darting and shimmering between the dark shadows. Silvery moonlight twisted through her onyx hair, causing her short, filmy white gown to glow. She was a creature of seduction, a faerie creature of the night, illuminating it like any man's fantasy.
Jasmine. How long had he hungered for her? How long had he thirsted—like a man crossing oceans of hot sand?
He stood still, watching her in the moonlight. Afraid to breathe, lest the dream disappear.
His expression hardened.
Too many years of hunger. Too many years of denied desire.
She wished to have her freedom. He would give it to her. But not yet.
Tonight, she was still his.
For this night, she was his to possess.
As he caught up with her, he saw her long dark hair tumbling down her pale, bare shoulders in the moonlight. Shoulders now shaking with silent sobs.
A branch snapped into the grass beneath his foot as he stopped abruptly.
She didn't turn around, but he knew she'd heard him by the sudden stiffening of her posture.
"I know I shouldn't be here." Her voice was sodden, muffled. "Have you come to kick me out?"
Grabbing her shoulder, he turned her around. "This garden is forbidden to all but the royal family."
"I know—"
"And you are my wife," he said in a low voice.
She looked up at him with a gasp. Her eyes wide and dark, her tears glimmering in the moonlight like endless pools. "But I can't be," she choked out. "You are the king. And I must marry—"
"I know." His eyes searched hers. "I will give you your divorce, Jasmine."
"You will?"
"Yes," he said in a low voice. "But not yet."
"What do you want from me?" she whispered.
His hand tightened on her bare shoulder. What did he want?
He wanted to strip the flimsy dress off her body and lay her down beneath him in the moist cool grass. He wanted to close his eyes and feel her wholly in his grasp, to feel the beat of her heart and warmth of her skin.
He wanted to kiss her senseless, to lick and suckle every inch of her naked body, from that slender, delicate neck to her full breasts, down her tiny waist to the wide sweep of her hips.
He wanted to dip his tongue into every crevice of her, to taste and bite every delicious curve. To savor the spicy sweetness of her skin until he could bear it no longer, and he plunged himself into her so hard and deeply that he would never resurface again.
Part of him—the civilized part—knew it was wrong. Jasmine was another man's betrothed. And she was under his protection.
But as he held her in his arms…Kareef was no longer a civilized man.
"You," he growled in reply. "I want you."