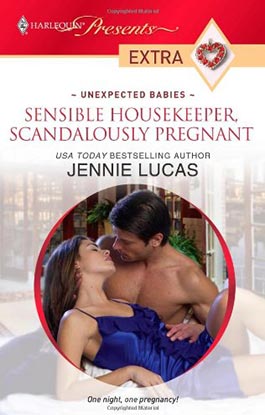 North America (September 2010)
ISBN 10: 0373527829
ISBN 13: 978-0373527823
UK (June 2010)
ISBN 10: 0263878171
ISBN 13: 978-0263878172
Sensible Housekeeper, Scandalously Pregnant
September 2010 -
Modern Romance/Harlequin Presents
The Housekeeper
What right did Argentinian billionaire Rafael Cruz have to demand her in his bed? Housekeeper Louisa Greyhad managed his homes impeccably. She'd catered to his every appetite – except...
The Boss
Oh, no, his virgin housekeeper did not flirt... but their simmering attraction meant Rafael had never been so close to losing control. And if there was one thing he was good at – besides seduction – it was taking charge!
The Baby?
But now they'd never be able to go back to being just boss and employee…
Rafael Cruz had broken many hearts, and he did not feel particularly bad about it.
He wasn't being arrogant. It was simply a fact.
The world was full of beautiful women to fill his bed. But good employees were hard to find. He'd promised himself he'd never seduce an employee, and he never had once been tempted to break that vow.
Until a month ago in Paris.
He'd told himself he'd never let it happen again. But now, kissing Louisa was heaven. Her lips were so soft and sweet and yielding beneath his. Her skin smelled like soap and spring flowers. His whole body tightened with the force of his desire.
It was more than desire. He knew this was wrong – forbidden – but he longed for her in a way he'd never felt for any woman. The elusive Miss Grey. When he felt her surrender in his arms, a growl rose in the back of his throat. He wrapped his arms around her more tightly and started to pull her back towards the bed.
With a gasp, she wrenched away from his arms. "No!"
"Louisa – "
"No." She stumbled back from him violently. "We can't do this!"
He reached his arms out for her. "We must."
She jumped back another two steps with an intake of breath, exhaling with a flare of nostril. With a shuddering intake of breath, she put her fingertips on her lips as if she could still feel him kissing her. "I can't," she whispered. "I work for you."
He knew she was right. That just made him more angry, more determined to have her.
"It doesn't matter," he said fiercely.
"Oh, but it does. You have a rule, Mr. Cruz," she said, lifting her chin. Her beautiful chocolate-colored eyes glittered. "You never seduce your employees. That's the one line you don't cross!"
Rafael craved her desperately. She was the one tonic that would make him forget everything he'd lost today. But he could not tell her that. He must never appear vulnerable to anyone – not to any woman on earth, let alone one of his employees!
"It is my rule, not yours," he said coolly. "I can choose to make an exception."
But she stepped back, out of his reach.
"I choose differently," she said. "What happened between us in Paris is a mistake. It will never happen again. I can't lose my career, my reputation, my life," she whispered. "Not again!"
He frowned, trying to read her expression.
"What do you mean, again?"
She blinked fast as she looked away. "Nothing."
"I don't believe you." He knew almost nothing about her past beyond what was spelled out on her résumé. She'd always deflected personal questions with cool, dignified reserve. He narrowed his eyes. "There was another man before me," he guessed.
"You know there wasn't!"
"You were a virgin. That doesn't mean there wasn't another man." The thought made his shoulders feel tighter still.
He saw her eyes widen, heard her intake of breath. Then she smoothed her oversized gray woolen skirt beneath her trembling hands. "My past is my own." She turned away. "If there will be nothing else, sir, I will leave you now—"
"No, damn it." Rafael crossed the room in two steps, blocking the doorway so she could not leave. "I won't let you go. Not until you answer me. I..." I need you, he almost said, but the words caught in his throat as sharply as a razorblade. He hadn't said them to anyone for years. He'd created his whole life to avoid saying them.
Through the open window, he could see the lights of Istanbul flickering in the dusk. Black silhouettes of minarets plunged like daggers into the dying red sunset. He could hear a muezzin's broadcasted call to prayers echo across the sea.
His eyes locked with hers in the shadowy room. The tension between them changed. Electrified. Desire for her swept through him, negating all else.
"Get out of my way, Mr. Cruz," she whispered.
He could hear the quickness of her breath, see the rise and fall of her chest. "No."
"You can't keep me here!"
Rafael almost shook with the force of his need for her.
"Can't I?" he said softly. 
My white chocolate macadamia brownies are famous in my family. For years, all my loved ones have begged for my recipe, but I've been too much of a cow to share it. In my defense, it's my best recipe, and I've loved to hear people's cries of joy when I brought the brownies to parties!
But this experience inspired me to create housekeeper Louisa Grey's special blondie brownies, the favorite of her sexy Argentinian employer Rafael Cruz, in Sensible Housekeeper, Scandalously Pregnant. In the story, another billionaire – Rafael's rival, Xerxes Novros – even offers her a million dollars for the recipe. But Louisa refuses! It's just that good.
But now, I'm giving the secret recipe to my fans. (Just don't tell my mother-in-law!) The ingredients are a bit expensive, probably over $12, and it's some work to make them. And they are by no means low-fat. But trust me, you will be loved by friends and family when you bring a platter of these brownies. They will kiss your toes.
THE HOUSEKEEPER'S MILLION-DOLLAR WHITE CHOCOLATE BROWNIES
Ingredients:
2 ½ cups flour
1 tsp. baking powder
½ tsp. salt
1 cup (2 sticks) butter, softened
1 ¾ cups brown sugar
1 tbsp. vanilla
2 eggs
1 package butterscotch chips
1 bag (14 oz) caramels, unwrapped, in microwave-safe bowl
¾ cup macadamia nuts (baking or dry roasted), roughly chopped
1 bag white chocolate chips, divided
Directions:
Preheat oven to 350°
Grease a 13x9" pan really well with butter.
Beat butter, brown sugar and vanilla in bowl until creamy. Beat in eggs. Add half of flour, half of baking powder, and half of salt. Mix. Add the rest of flour, baking powder and salt. Mix. When creamy, beat in all the butterscotch chips.
Wash hands really well – take off all rings.
Put in half of the dough to cover the bottom of greased pan. Curl it up on the sides a bit like a pizza crust. (Get fingertips wet with water from faucet to help spread the batter – too sticky for a spoon.)
Melt caramels in the microwave. Stir. Pour melted caramel onto the batter in pan, being careful not to let the caramel touch the sides of the pan. Sprinkle macadamia nuts over caramel, followed by half of the white chocolate chips. (Do it quickly so the warm caramel will half-melt the chips – this will help "stick" the top layer.)
Pour in remaining butterscotch batter, again washing hands carefully and spreading the batter thinly, with wet fingertips if necessary. Sprinkle the very top with the reserved half of white chocolate chips.
Bake for 33-35 minutes. (Or if you make the dough the previous night, and refrigerate overnight before, add an extra minute of cooking time.)
Allow to cool for several hours before cutting. Enjoy! (And get ready for your toes to be kissed!)