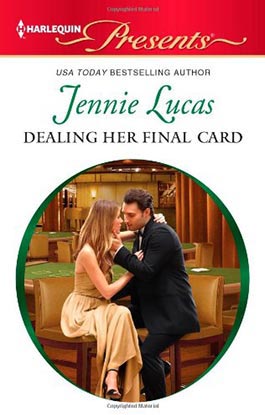 North America (January 2013)
ISBN 10: 0373131224
ISBN 13: 978-0373131228 · 
UK (January 2013)
ISBN 10: 0263899799
ISBN 13: 978-0263899795
Dealing Her Final Card
January 2013 -
Modern Romance/Harlequin Presents
'If my card is higher, you'll belong to me, obeying my every whim, for as long as I desire.'
As Bree Dalton hears the icy words of Russian Prince Vladimir Xendzov, the man whose ring she once wore and life she once ruined, she nervously accepts the biggest wager of her life. Her body for a million dollars.
Bree knows better than to doubt the steely ruthlessness of this man. With everything to lose, and the weight of Vladimir's gaze upon her, she will have to play the best she's ever played ... or run the risk of losing herself completely...
"Ten years ago Bree Dalton pulled her last con, and it cost her the man she loved. Now, to save her little sister, she has to become the card shark she used to be. Ten years ago, Bree's betrayal turned Vladimir Xendzov from hopeful to heartless. Now she's fallen into his perfect trap, and he'll never let her go. Readers will love watching this couple go from suspicious enemies in balmy Hawaii to impassioned lovers in frigid Russia, where their intimacy could thaw the coldest Siberian winter."
~Romantic Times, 4 Stars (posted January 2013)
"Dealing Her Final Cardby Jennie Lucas has everything that a Harlequin Presents reader wants: an alpha male, a heroine capable of standing up to him, exotic locales and, of course, plenty of heat! If you enjoy those element, you'll like this tale."
~Harlequin Junkie, 4 Hearts Rating (posted January 2013)
"Dealing Her Final Card was a sizzling HOT tale with a surprisingly steamy encounter between Vladimir and Bree.  I was a little hesitant to go along for the ride as Bree seemed a bit more than what I had expected.  However, I was pleased with the outcome because Bree held true to her character in Dealing Her Final Card."
~Joyfully Reviewed (posted January 2013)
"Well, well. Bree Dalton." Her boss licked his lips, looking at her with beady eyes in his florid, sweaty face. "I thought you might show up. Did you bring the hundred thousand dollars your sister owes me?"
"You know we don't have that kind of money."
"Then I'll send my men to take it out of her hide."
Bree's knees shook beneath the poker table, but she did not feel fear. Her body might feel whatever it liked, but she'd disconnected it from her heart. She said calmly, "I will play for her debt."
"You!" He snorted. "What will you wager? This game has a five-thousand-dollar buy-in. You could scrub the bathrooms of the entire Hale Ka'nani resort for years and not have that kind of money."
"I offer a trade."
"You have nothing of value."
"I have myself."
Her boss stared at her, then licked his lips. "You mean..."
"Yes. I mean you could have me in bed." She looked at him steadily, feeling nothing. Her skin felt cold, her heart as frozen as the blue iceberg that sank the Titanic. "You wanted me, Mr. Hudson. Here I am."
There was a low whistle, an intake of breath around the poker table.
Without flinching, Bree let her gaze taunt each player in turn, all of the men larger, older and more powerful than she could ever be. "Who will take the gamble?"
"Well now." Looking her over, the Texas oil baron thoughtfully tilted back his cowboy hat. "This game just got a lot more interesting."
In the corner of her eye, she saw a dark, hulking shadow come around the table. A man sat down in the empty chair on the other side of the dealer, and Bree instantly turned to him with languid eyes. "Allow me to join your game, and I could be yours."
Bree's voice choked off mid-sentence as she sucked in her breath.
She knew those cold blue eyes. The high cheekbones, sharp as a razorblade. The strong jaw that proclaimed ruthless, almost thuggish strength. So powerful, so darkly handsome, so sensual.
So impossible.
"No," she whispered. Not after ten years. Not here. "It can't be."
Vladimir Xendzov's eyes narrowed with recognition, and then she felt the rush of his sudden searing hatred like fire.
"Have you met Prince Vladimir?" Mr. Hudson purred.
"Prince?" Bree choked out. She was unable to look away from Vladimir's face, the face of the man she'd dreamed about unwillingly for the last ten years. 
His cruel, sensual lips curved as he leaned back in his chair.
"Miss Dalton," he drawled. "I didn't know you were in Hawaii. And gambling. What a pleasant surprise."
His low, husky voice, so close to her, so real, caused a shiver across her skin. She stared at him in shock.
Her one lost love. Not a ghost. Not a dream. But here, at the Hale Ka'nani Resort, not six feet away from her.
"So what's on offer? Your body, is it?" Vladimir's words were cold, even sardonic. "What a charming prize that would be, though hardly exclusive. Shared by thousands, I should imagine."
And just like that, the ice around her heart exploded into a million glass splinters. She sucked in her breath.
Vladimir Xendzov had made her love him with all the reckless passion of an innocent, untamed heart. He'd made her a better person then he'd destroyed her. Her lips parted. "Vladimir."
He stiffened. "Your highness will do."
She didn't realize she'd spoken his name aloud. Glancing to the right and left, she matched his sardonic tone. "So you're using your title now."
His blue eyes burned through her. "It is mine by right."
"You didn't always think so."
"I am no longer the boy you once knew," he said coldly.
She swallowed. Ten years ago, she'd thought Vladimir was the last honest man on earth. She'd loved him enough to give up the wicked skills that made her special. When he'd held her tight on a cold Alaskan night and begged her to be his bride, it had been the happiest night of her life. Then he'd ruthlessly deserted her the next morning, before she could tell him the truth. When she needed him most, he'd stabbed her in the back. Some prince. "What are you doing in Hawaii?"
His lip curled. Without answering her, he turned away. "The table is full," he said to the other players. "We do not want her."
"Speak for yourself," one of them muttered, looking at Bree.
Looking around, she jolted in her chair. She'd forgotten the other men were there, looking at her like hungry wolves at a raw mutton chop. The beautiful, sexily dressed women standing in a circle behind them were glaring as if they would like to tear her limb from limb. In her desperation to join the game with nothing to offer but her body, perhaps she'd taken her act a little too far.
Feel nothing, she ordered her shivering heart. I have ice for a heart. She looked away from the large, powerful men and sharp-taloned women. They couldn't hurt her. The only man who'd ever been able to really hurt her was Vladimir. And what more could he do, that he hadn't done already?
One thing, a cold voice whispered. Ten years ago, he'd taken her heart and soul.
But not her virginity.
And he never would, she told herself fiercely. Bree didn't know what Vladimir Xendzov was doing in Honolulu, but she didn't care. He was ancient history. All that mattered now was protecting Josie.
To save her little sister, Bree would play cards with the devil himself.
With an intake of breath, she lifted her chin, ignoring Vladimir as she looked around the table. "It is for this first game only that I offer my body. If I lose, the winner will get me, along with all the money in the pot. But if I win," when I win, she amended silently, "I will only bet money. Until I possess the entire amount of my sister's debt."
As she spoke, her heartbeat started to resume a normal beat. Bluffing, playing card games, was home to her. She'd learned poker when her father had pulled her up to their table in Anchorage and taught her at the tender age of four. By six, Bree was a child prodigy accompanying her father to games and, when he saw how much money she could make, his partner in crime.
Leaning forward, she looked at each man in turn, ignoring the death stares of the women behind them. "What is your answer?"
"We are here to play poker," another man complained. "Not for hookers."
Bree twirled her long blond hair slowly around one of her slender fingers and looked through her lashes at the Silicon Valley tycoon. "You don't recognize me, do you, Mr. McNamara?"
"Should I?"
She gave him a smile. "I guess not. But you knew my father, Black Jack Dalton." She paused. "Have you enjoyed the painting you paid him to steal from the archives of the Getty Museum? When did you learn it was a fake?"
The Silicon Valley tycoon stiffened.
"And Mr. Vanderwald," she turned to the gray-haired, overweight man sitting beside her boss, "twelve years ago you were nearly wiped out, weren't you? Investing in an Alaskan oil well that never existed."
The Belgian land developer scowled. "How the devil did you... "
"You thought my father conned you. But it was my idea. It was me," she whispered, lowering her eyelashes as she ran her hand down the softly worn leather of her black motorcycle jacket. "It was all me."
"You," the fat man breathed, staring at her.
She was doing well. Then from the corner of her eye, she felt Vladimir's sardonic gaze. It hit her cheek and the side of her neck like a blast of ice. Her heart skidded with the effort it took to ignore him. He was the one man who'd ever really known her. The mark she'd stupidly let see behind her mask. She felt his hatred. Felt his scorn.
Fine. She felt the same about him. Let him hate her. His hate bounced off the thick ice of her scorn for him. She'd thought he was so perfect and noble. She'd killed herself trying to be worthy. But when he'd learned the truth about her past, he'd just deserted her without giving her a chance to explain.
So much for his honor. So much for his love.
Bree's lips twisted. Turning her body away, she gave the rest of the men a sensual smile. "Win this first hand, and you'll have me at your mercy. You'll get your revenge. Humiliate me completely. Take my body, and make your last memory of me one of your own pleasure." She gave a soft sigh, allowing her lips to part. "My skills at cards are nothing compared to what I can do to you in bed. I've learned the art of seduction. You have no idea," she whispered, "what I can do to you. A single hour with me will change your life."
Her act was 100% fraud, of course. She know the art of seduction? What a joke. She'd have no clue what she'd do with a man in bed. Since Vladimir, she'd been very careful never to let any man close to her. At twenty-eight, she was a virgin. But she did know how to bluff. The men were riveted.
"I'm in," Mr. Hudson croaked.
"And me."
"I accept."
"Yes."
As the men at the table agreed, if Bree hadn't frozen her heart against emotion, she would have been frightened by all the looks of lust and desire and rage.
But the last set of ice-blue eyes held no lust. No desire for domination. Just pure, cold understanding. As if Vladimir alone could see through all her tricks to the scared woman beneath.
"As you wish," he said softly. He gave her a cold smile. "Let's play."