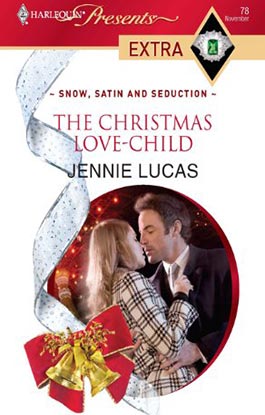 North America (November 2009)
ISBN 10: 037352742X
ISBN 13: 978-0373527427
UK (October 2009)
ISBN 10: 0263874389
ISBN 13: 978-0263874389
The Christmas Love-Child
November 2009 -
Modern Romance/Harlequin Presents


2010 RITA Finalist
Bought for business, captured for marriage!
It's Christmas time in London, and unwittingly Grace is swirled into the sumptuous and scandalous world of Prince Maksim Rostov. When the unworldly secretary learns he took her innocence in exchange for a business deal, broken-hearted she flees.
But when Maksim discovers Grace's pregnancy secret, the ruthless Russian drags her to his guarded mansion in snowy Moscow. There he'll keep her as his captive bride and unwilling princess....
"Playboy Prince Maksim Rostov is a business rival of Grace Cannon's boss. Loyalty to her boss, despite her unrequited love, makes Grace suspicious that Maksim's attempts to seduce her are just a cover-up to allow him to steal business secrets in the bedroom. But when given a choice, will Maksim choose a chance for a future with Grace over the opportunity to expand his empire? A passionate alpha male, a spunky heroine, sizzling chemistry and a roller-coaster ride of emotions make it easy to escape between the pages of this novel."
~Romantic Times BOOKReviews awarding The Christmas Love-Child 4 1/2 stars!
Maksim glanced down at the girl's lovely, dazzled blue eyes as his chauffeur drove them east through the crowded traffic on Knightsbridge Road towards Mayfair. She'd called him nice. He repeated the word in his mind as if he were trying to comprehend it.
Nice?
Prince Maksim Ivanovich Rostov had not become powerful by being nice.
He was not nice.
He was selfish. He was ruthless. He took what he wanted. It was how he'd build a billion-dollar fortune out of nothing.
And now…he wanted Grace Cannon.
This young American secretary was the key to everything. She would help him finally crush Barrington. Maksim would destroy him, as the man deserved. And Grace would help him, whether she wanted to or not.
Maksim turned to her. Unfolding a soft cashmere blanket, he draped it over her shivering body.
"Thank you," she said, her teeth still chattering.
"It's my pleasure."
"You're not like I expected," she whispered, pressing the blanket against her cheek. "You're not like everyone says."
"What do they say?" He carelessly placed his arm on the leather seat behind her. She was still shivering. He moved closer. Even though she was now covered with a blanket, her shivering only increased when he touched her.
"They say—you're a ruthless playboy," she said haltingly. "That you spend half your time conquering business rivals…and the other half making conquests of women."
He laughed. "They are right." He moved closer, looking down into her face. "That is exactly who I am."
His thigh brushed against hers, and she nearly jumped out of her skin. She scooted away from him as if he'd burned her.
He slowly looked her over. She wasn't a girl that any man would immediately notice. Grace Cannon was a drab sparrow, pale and frumpy with barely a word to say for herself.
And yet…
Now that Maksim really looked at her, he saw that the girl wasn't nearly as plain as he'd first thought. Her ill-fitting coat and wet ponytail had made her seem so, but now he realized his mistake. He suddenly realized the dowdy secretary was a beauty.
A secret beauty, disguising herself away from the world. Beneath the unattractive clothing and the frumpy, frizzy hairstyle, her loveliness shone bright as the sun.
She hid her beauty. Why?
"What's wrong?" She frowned up at him, furrowing her brow in alarm.
Had she guessed his plan? "What, solnishka mayo?"
"You're staring at me."
"You're beautiful," he said simply. "Like sunshine in winter."
She blushed, biting her tender pink lip as she looked away. Clutching the luxurious cashmere like a security blanket against her wet, threadbare coat, she scooted further from him on the car's leather seat. With a swallowed sigh, she stared out through the window at the passing Christmas lights beneath the thickly falling sleet. "Don't be ridiculous. I know I'm not pretty."
She didn't know, he realized. She had no idea. She wasn't purposefully hiding her beauty. She didn't know.
"You are beautiful, Grace," he said quietly.
At the use of her first name, she gave him a sudden fierce, sharp glance. "Don't waste your flattery on me, your highness."
He gave her an easy smile. "Call me Maksim. What makes you think it's flattery?"
"You might be London's most famous playboy, but I'm not that gullible. A few lying compliments won't change my mind."
So she was intuitive, as well as lovely. He was growing more intrigued by the moment. "I wasn't lying."
"I'm not a total fool. I know I'm not beautiful. There's only one reason you'd say I am."
"And that is?"
"You want me to betray Alan." She lifted her chin. "I won't. I'd die first."
"Loyalty," he said, staring at her with even greater interest. Would money be enough to convince Grace to turn on her boss? Or would Maksim have to seduce her?
Seducing a woman who was in love with another man would be an interesting challenge, he thought. As well as poetic justice.
But Maksim's interest in Grace was no longer just about revenge. It was no longer just about rivalry or honor.
He suddenly wanted to peel away the deceptive layers of the little secretary's plain clothing. To see her naked in his bed. To feel her lush curves against his body and see her bright, unadorned face breathless in the soft pink light of dawn.
Beneath his gaze, Grace's pale cheeks went slowly red as she stammered, "The Leighton boutique is on Bond Street—"
He gave a predatory smile. "My driver knows the way."
"Of course he does." She turned away, blinking fast as she stared out the window. "You date so many women, I bet you go there a lot." Beneath her breath, she added wistfully, "It must be nice to never worry about money."
A sudden memory went through Maksim of the bone-chilling winter he'd turned fourteen. There'd been no heat in their tiny apartment; his mother had been laid off from her temp job. His three-year-old sister had been shivering and crying, and their desperate mother had taken her to a shelter to get warm. Desperate to help, he'd cut school to sell newspapers on the street in Philadelphia. Freezing rain soaked through everything. It had taken three days afterward for Maksim's coat to dry. Three days of winter so cold it left his skin the color of ash. Three days of a wet, icy wind that seeped beneath his clothes and left him shaking till his teeth chattered.
Three days of hiding the wet coat from his mother, knowing that she would insist on giving him her own, that she'd go without a coat herself as she trudged the distance between employment agencies, desperate to find a job, any job.
Those three days had taught him the most valuable lesson of his life.
Money made the difference between a good life—and no life at all.
Money fixed anything. Money fixed everything.
And you didn't get it by being nice.
"What a fairy-tale life you have," the girl whispered, staring out the window at all the well-dressed shoppers on Bond Street, the expensive cars, the festive decorations and lights of Christmas. "A perfect fairy-tale life."
Looking at her wistful beauty, Maksim suddenly had the desire to tell this naïve girl the truth about his ruthless soul.
But he didn't. She'd learn it soon enough. She'd learn it the hard way.
Grace Cannon would tell Maksim what he needed to know. He would try to buy the information. If that didn't work—he'd seduce it from her.
Or maybe, he thought suddenly, he would seduce her anyway.
He would show this little secretary romance like she'd never seen before. Luxury on a grand scale. He would be lavish. He would kiss her senseless. And like every woman before her, she would fall.
He would make her talk.
He would take her body.
Then… he would drop her.
A man didn't get rich—or win—by being nice.
The Christmas Love-Child started with my own fantasies about London – working there, living there as an American girl, and spending Christmas there!
Right before I started writing this story, in September 2008, I went to London for the Association of Mills and Boon Authors (AMBA) luncheon. I brought my mom with me, since she'd never visited Europe before, and when I wasn't doing authorly stuff we toured the city together.
Harrods
One of the places we visited was swanky, gilded Harrods in Knightsbridge. Though it was only September, they were already selling Christmas decorations and liquored-up fruitcake. A large section of the department store totally decked out with twinkling lights and ornaments.
Both Harrods and the sidewalk outside were so packed with shoppers and tourists it was hard to walk. I remember feeling so exhausted from all the crowds I nearly wanted to fall over!
Ladurée
Right before we went to Harrods, we visited a charming little tea shop across the street called Ladurée for our breakfast. It's actually an outpost of the famous French patisserie. It inspired the little tea shop where Maksim takes Grace in his first attempt to lure information from her – although of course I put my own spin on it, making it more faded and adding a kindly elderly proprietress.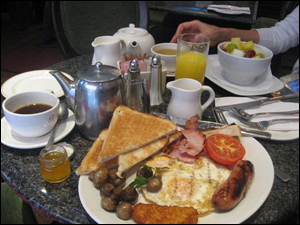 Here's a picture of the "light" English breakfast I had at Ladurée. Yummmm.
Russian billionaires vs. the Recession
While I was in London in September 2008, the big crash happened back home. The British newspapers were in a big tumult about the financial services firm Lehman Brothers filing for bankruptcy in New York. I didn't quite grasp the importance of that until a few weeks later, but then the stock market plummeted and the downturn really hit. As some of my friends and family started to lose jobs, all I wanted to do was escape all the doom and gloom. So I decided to create a hero who was more lavishly, ridiculously rich than any I'd ever done before. Prince Maksim Rostov was born.
Maksim's name
I've always been fascinated by European royalty, and the Romanovs are so mysterious and, well, haunted. I originally envisioned Maksim as a Romanov prince. I later was asked to change his last name, just to be on the safe side – as there are still a few real Romanovs around, and might object to me making up a cousin. So my Maksim became a Rostov instead, a distant cousin of my very first heroine, Anna Rostoff of 
The Greek Billionaire's Baby Revenge
.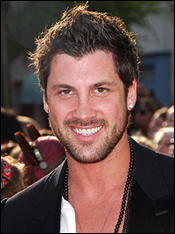 It took me a really long time to choose my hero's first name. I almost called him Vladimir. Then I became a fan of the show Dancing with the Stars. I took one look at hunky, Slavic, slightly brutal and cruel looking (yet very sexy) Maksim Chmerkovskiy, and my hero's name was decided!
The Leighton Shops
I wanted to create a store like Chanel or Fendi or Louis Vuitton, but I wanted my shop to have a very snooty salesgirl. And I'm sure the staff at Chanel, et al, are actually quite nice. So I created a fictitious luxury brand called "Leighton". Look for Leighton shops to appear in other stories. Now if only I could get myself a nice Leighton handbag….
Maksim's Palace
The stairs in Maksim's palace outside Moscow were inspired by the famous Gorky House. Very stylized, and a little eerie too.
The Dolly Parton connection
As I was trying to work out the plot, I drove across my town one day and heard a song on the radio. It was Mindy Smith's remake of the Dolly Parton song Jolene, and it helped me crystallize a major conflict between my hero and heroine. Is it any wonder that the villainess of my story has auburn hair?
The version of the song I heard had both Mindy Smith and Dolly Parton harmonizing on vocals, but you can see Mindy's video of the song here.
The House in Dartmoor
Maksim's home in Dartmoor was inspired by Chatsworth House in Derbyshire and a hotel called Prince Hall in Devon.
Ah, Dartmoor. It sounds so mysterious and misty and beautiful, that lately I've been looking through rental cottages in the area, dreaming of taking my family there for the holidays. And maybe when they're older, the Trans-Siberian Railroad from Moscow to the Far East. Hey, a mom can dream, right?